High Visibility Safety Garments - Materials
Thursday, 26 September 2013
TESTING OF HIGH-VISIBILITY SAFETY GARMENTS – PART II
This is the second article in a series relating to information about high-visibility garments. The first of these articles looked at the design aspects, this article focuses on the materials used in these garments.
The Standard for High-Visibility Safety Garments
AS/NZS 1906.4:2010 is the joint Australian and New Zealand standard covering the materials used in high visibility safety garments. This standard is also referred to in AS/NZS 4602.1:2011 which relates to product design.
Application of the Standard
There are two specifications relating to materials:
· the background material used in Day and Day/Night garments
· the retroreflective tape used in the Day/Night and Night garments
The background materials can be fluorescent ("F") or Non-Fluorescent ("NF").
Retroreflective Tape
Retroreflective tape is the material that gives night time visibility. These tapes reflect any light shining onto them back to the light source.
Retroreflective tape comes in two varieties - Class R or Class RF.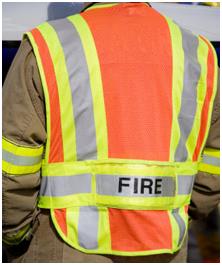 Class R tape are those where the colour is not relevant (this is most often silver, and used in many applications).
Class RF tapes are a combined-performance tape – these are retroreflective and include fluorescent colours in the tape itself (not just the background material). The widest application of RF tapes is in the fire service industry, an example of which is shown on the left. The tapes are tested for minimum brightness and are measured at various angles to ensure their effectiveness.
Advice on High-Visibility Safety Garment Testing
The variety of tests conducted within AS/NZS 1906.4:2010, together with the design standard for such garments (AS/NZS 4602.1:2011 – discussed in a previous Fact Sheet), ensures a complete performance analysis of high-visibility garments.
Download Fact Sheet: High Visibility Garments - Materials
Contact Us
NZWTA Ltd has a comprehensive understanding of the standards involved in high-visibility garment testing and can provide a report on the conformance to these standards. If you are involved with manufacturing, importing or using high-visibility garments and want to ensure the garments are compliant with current standards, contact NZWTA on:
Ph: +64 6 835 1086 OR
Email: Lorraine.greer@nzwta.co.nz / Christian.judan@nzwta.co.nz