Wool to Benefit BlazeAid Charity
Tuesday, 26 March 2013
BlazeAid has been chosen as this year's Australian Sheep and Wool Show fleece competition charity. The volunteer organisation works with farmers and families in rural Australia to rebuild livestock fences that have been destroyed by natural disasters such as fires and floods.
There are 14 base camps around Australia, from where volunteers help to rebuild fences that have been damaged or destroyed. BlazeAid secretary Dick Patterson said at the beginning of last week 288 volunteers were currently working in flood and fire-affected areas.
BlazeAid was established by Kevin and Rhonda Butler from Kilmore after the Black Saturday bushfires. Since its development more than 8500 volunteers have helped to rebuild farmers' fencing around the country. Mr Patterson said for every $1 donated to BlazeAid, $80 worth of fencing could be built. "Everyone involved with BlazeAid volunteers their time," he said.
"After a natural disaster occurs we can have people on the ground within three days. "We get farmers back into production, we help the community by helping farmers. "Of equal importance, volunteers also help to lift the spirits of farming families, who are often facing their second or third flood or bushfire."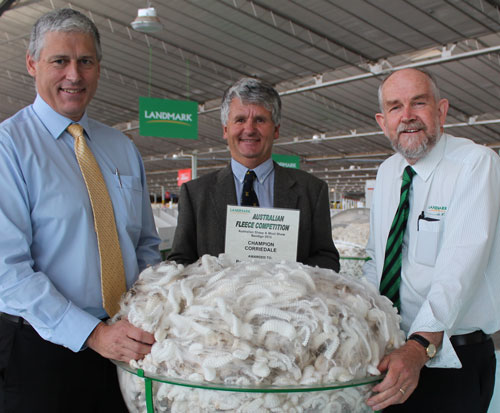 Each year many competitors generously donate their fleeces to a charity that has been nominated by the Competition Committee. A different charity is selected each year. Following the competition, donated fleeces are pressed up into bales which are then sold at auction and the proceeds donated to the nominated charity.
AWTA is a major sponsor of both the Australian Sheep and Wool Show and the Australian Fleece Competition.
Visit the BlazeAid website for further details.
Entries for the 2013 Australian Fleece Competition close on 7th June 2013, for details download the event schedule and entry form below.
Australian Fleece Competition 2013 - Schedule
Australian Fleece Competition 2013 - Entry Form
Reproduced from an article by Shannon Twomey published in the Stock & Land, March 21, 2013